Skin conditions and sun exposure
The sun sustains life and vital Vitamin D that we can't live without. But as healthy and vital the sun is, it can also be your worst skin-enemy. While every sunburn can increase the risk of skin cancer, leathery skin, dark spots, and wrinkles, it's not just a sunny day at the beach that can cause trouble. Each time you're outside in the sun without sun protection, it will add to the damage. And that is all year.
It's the law of nature that we are all born with skin conditions like birthmarks and freckles. Some more than others – but as we grow older the conditions will increase to moles, stretchmarks, scar tissue and skin pigmentation. And continuous exposure to UV light may spur cells to become cancerous, which applies for everyone. No one is exempt, but people with sensitive skin, fair hair and blue or green eyes have a history of repeated sunburns and skin damage.
To guide you through the most common skin conditions we have developed a cheat sheet to help you understand how to protect yourself.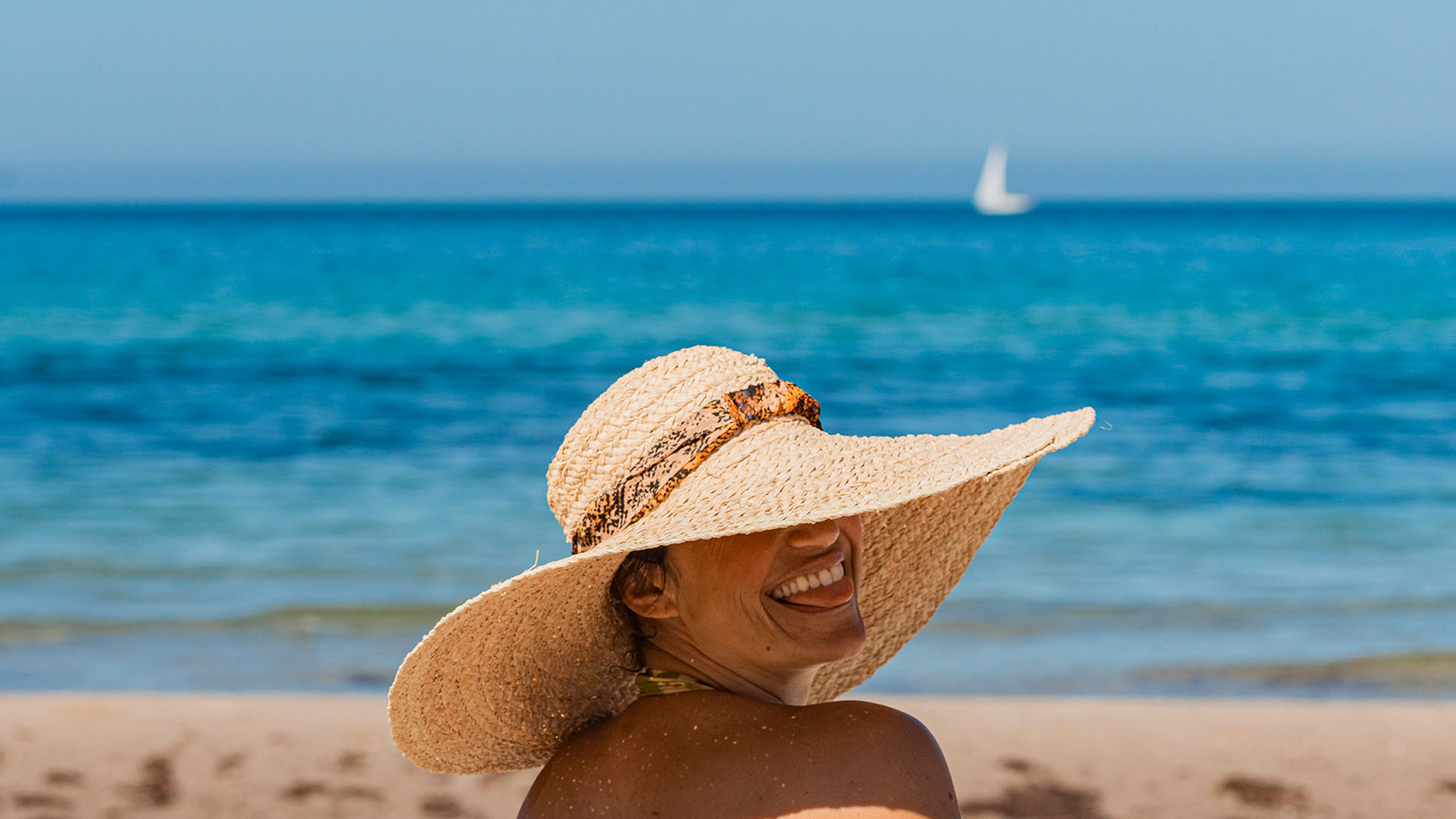 #1 Birthmarks and moles: The small coloured dots that can be found all over your body is either birthmarks or moles. They are essentially the same, but the main difference is that birthmarks is present at birth and moles develops over time. Most moles are completely non-dangerous and non-cancerous and comes in many shapes and forms: Brown, black, hairy, raised, large, small. But just like the rest of your skin, it's oh-so important to protect your moles and birthmarks, as they can be damaged by prolonged exposure to UVA and UVB rays, which can lead to skin cancer.
Broad Spectrum sun protection like P20 SENSITIVE SKIN, will give you up to 10 hours triple protection all 365 days a year.
#2 Freckles: If you have freckles, you might have noticed that whenever the sun is out, your freckles are much more visible. The small, dark spots are skin cells that has produced extra pigmentation and are activated by sun exposure. Typically, people with the freckle gene (MC1R) have pale skin, but every human, regardless of skin colour, can be born with freckles.
Freckles serves a purpose, as they, in a way, act like sunscreens and naturally blocks the UV rays from penetrating deeper layers of the skin. But that must not fool you – if you have freckles, the UVA and UVB rays can still damage your skin, and you shouldn't hesitate to use sun protection. Some people don't mind their freckles, but others prefer to minimize them – especially in the face – due to the appearance of irregularities in their skin tone.
A great way to protect your freckles is with P20 SENSITIVE FACE SPF50+, which provides you with an all-day broad spectrum sun cream formulated specifically to protect face and neck from UV induced skin damage.
#3 Depigmentation and sunspots: They can occur due to hormonal changes, like pregnancy or aging – but in general will extended sun exposure accelerate the production of melanin (the pigment responsible for your skin colour) and cause sunspots. Most people want to prevent them forming throughout the summer. If you feel this way, you must practice the right protection techniques, and sunscreen is (stating the obvious) of great importance. Exposing your skin to the sun, getting a tan or a sunburn, will undoubtedly bring out depigmentation or sunspots. And if you are serious in your quest to prevent them from appearing you must wear sun protection every day and apply it generously and consistently.
We recommend applying at least a handful of P20 SENSITIVE FACE SPF50+ to your face alone. And if your neck, chest, arms, and legs are exposed, apply P20 to those areas as well.
#4 Stretchmarks: There is a misconception that sun can reduce stretchmarks. This is false! A stretchmark is the result from the skin rapidly expanding to make room for extra weight, such as growth spurs, pregnancy and rapid weight gain and loss. If you get them, they are not preventable, and there is no certain way to make them go away again. The best way to reduce the appearance is to use sun protection, as they tend to fade from a deep red to a less noticeable colour by protecting your skin from sun damage. Contrary, the rays of the sun can weaken the skin and cause the stretchmarks to look worse.
Applying P20 ORIGINAL SPF30 or 50+ sunscreen gives you a transparent formulation that is fast drying and sweat-resistant, so your stretchmarks stay protected.
#5 Scar tissue: Many people do not realize that scar tissue can take up to 18-24 months to heal, as well as the pink / red color from a fresh scar to subside. If you expose your scar too much to UV exposure, it will lead to post-inflammatory hyperpigmentation, which can cause the scar to go from pink to brown. And that can last for years.
Covering your scars is the obvious way to protect them from too much sun but as all P20 products delivers a broad-spectrum UVA- and UVB-protection it will give your scars the best protection. Even when it's a cloudy day.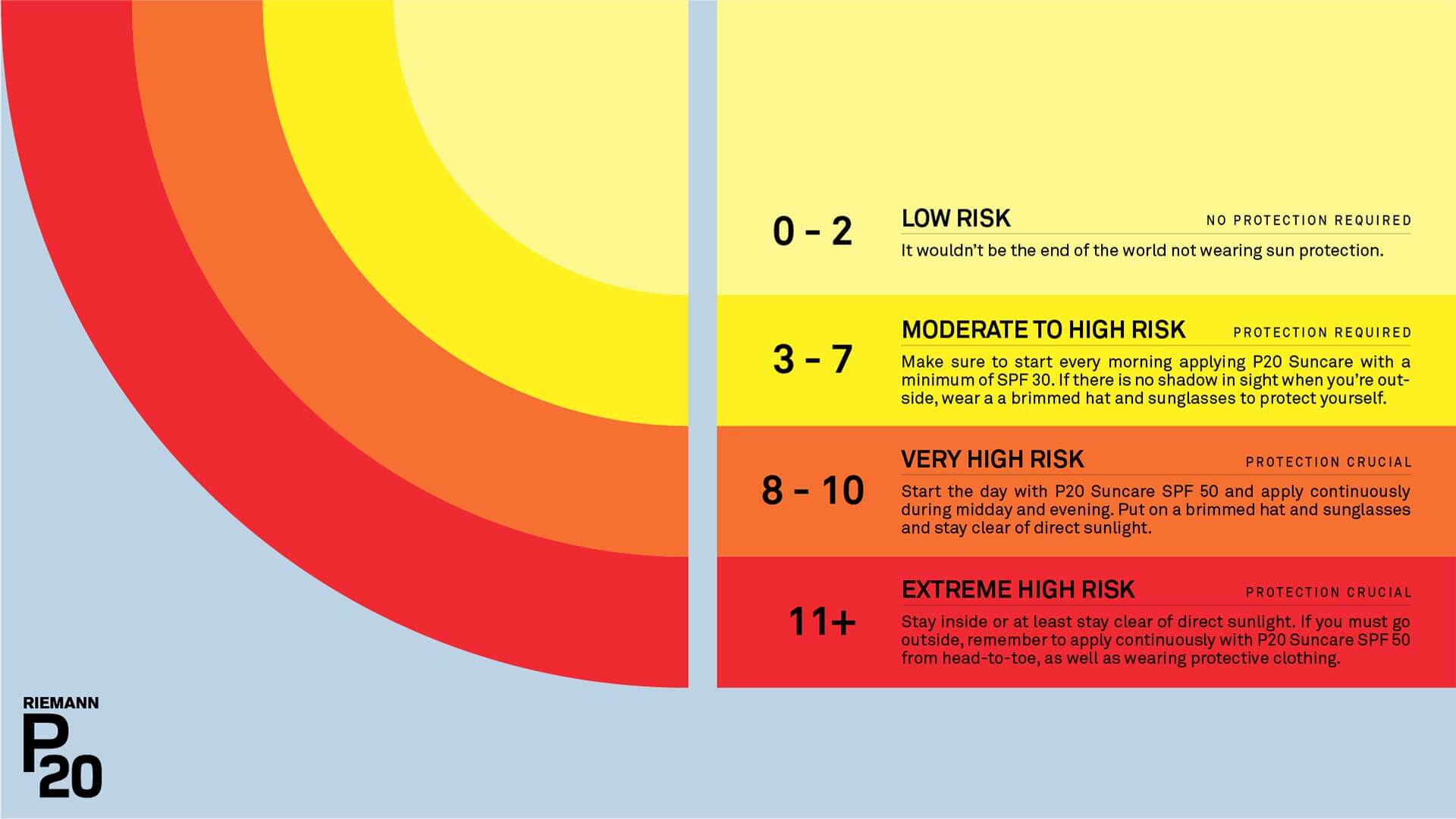 So, how can you keep track of the daily UVA and UVB level? Enter The UV Index – a tool, developed by WHO, to determine how much UV radiation you are surrounded by. To identify the daily index, there are a variety of weather apps, that can guide you to the best precaution against UV radiation. Let's break down the index:
Index 0-2: Low risk and no protection is required, and it wouldn't be the end of the world not wearing sun protection outside.
Index 3-5: Moderate risk and protection is required – Slop on P20 Suncare in the morning and hang around outside with no regrets.
Index 6-7: High risk and protection is required – Slop on P20 Suncare with a minimum of SPF 30, slap on a brimmed hat, slide on your sunglasses and seek shade from the sun.
Index 8-10: Very high risk and protection is crucial – Start the day with a SPF 50 and continuously reapply the slopping during midday and evening. Slap on a brimmed hat – it does not matter that it doesn't match today's outfit, as long as you wear your supercool sunglasses and stay clear of direct sunlight.
Index 11+: Extreme high risk and protection is crucial – Stay inside or at least stay clear of direct sunlight. If you must go outside, remember to slop, slap and slide from head-to-toe.
The UV Index changes throughout the day and is usually strongest during midday. But it's important to notice, that UV rays are always present, and we highly recommend that you use P20 sun protection every day, all year.