It's a year-round responsibility to protect yourself from the sun, especially Ultraviolet radiation – a form of non-ionizing radiation, that is emitted by the sun. While it has its benefits for all of us, like Vitamin D, too much UV exposure can cause serious health risks, and its crucial to understand how to protect yourself.
UV radiation is a tricky thing! While you can see the bright, shiny sun and feel the heat beaming on your skin, your senses are not able to detect UV radiation. So, you won't notice any skin damage until its done. Furthermore, a common misunderstanding is, that the temperature is related to UV. Spoiler Alert – It's not! UV levels can be just as damaging on cool and cloudy days, as it can on a sunny summer day. However, it is always highest between 10 am and 4 pm, while the temperature peaks in the afternoon when the UV levels are less intense.
UVA: A quick way to remember what UVA does to your body is to think of the A for Ageing. These rays are responsible for 95% of the ultraviolets rays that hits the surface of the earth. It penetrates deep into the lower layers of the skin (Dermis), and are the rays that cause skin-ageing, like wrinkles and age-spots. Way earlier than it needs to! The thing about UVA is that its intensity remains stable all year round and can penetrate hard materials like glass. So, if you want a young, healthy skin, you will have to protect yourself all year long with P20 SUNSCREEN with an SPF of at least 15 or higher.
UVB: Think B for Burning! UVB penetrates the upper layer of your skin (Epidermis) and is the reason for sunburns, tanning and worst of all, skin cancer. These rays and the intensity are only responsible for 5% of the ultraviolets rays that hits the surface of the earth and depends on the season, time of day, altitudes, and location. But as an extra bonus, they reflect off snow, sand, water, and other surfaces of the earth – and that increases your exposure. This means that you can just as easily get sunburned on your skiing trip in Norway, as you can on your beachy vacation to Thailand.
UVC: There is no quick way to remember what the C stands for in UVC. And luckily you don't have to, as UVC radiation from the sun isn't able to penetrate earth's atmosphere. So, while UVC is the shortest and therefore the most dangerous of the three forms of UV, we are never at risk, as the UVC is completely absorbed by the ozone layer. However, this is not to say, that we don't get exposed to UVC, as it is still present at earth through inorganic sources like older tanning beds, lasers etc.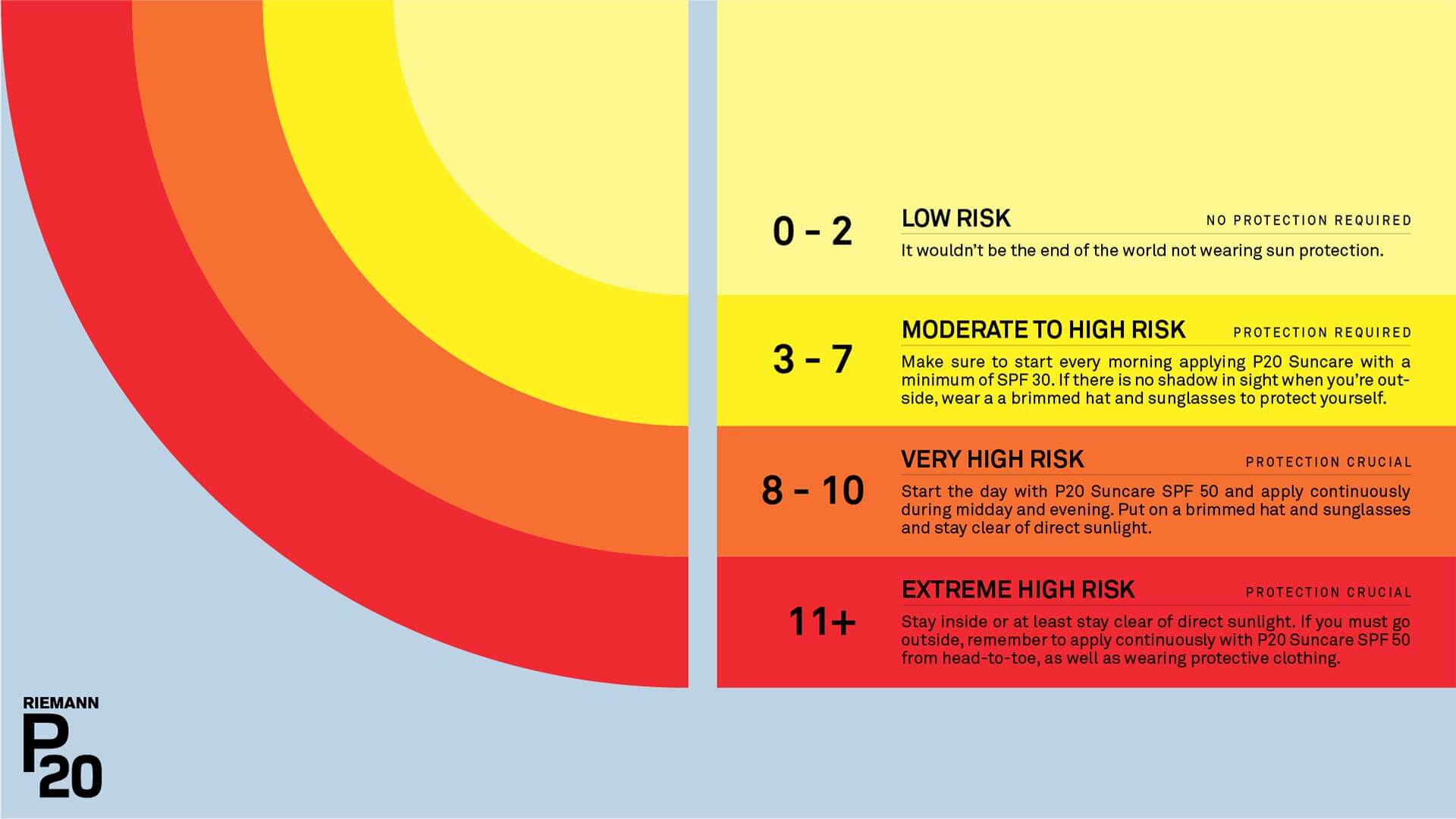 So, how can you keep track of the daily UVA and UVB level? Enter The UV Index – a tool, developed by WHO, to determine how much UV radiation you are surrounded by. To identify the daily index, there are a variety of weather apps, that can guide you to the best precaution against UV radiation. Let's break down the index:
Index 0-2: Low risk and no protection is required, and it wouldn't be the end of the world not wearing sun protection outside.
Index 3-5: Moderate risk and protection is required – Slop on P20 Suncare in the morning and hang around outside with no regrets.
Index 6-7: High risk and protection is required – Slop on P20 Suncare with a minimum of SPF 30, slap on a brimmed hat, slide on your sunglasses and seek shade from the sun.
Index 8-10: Very high risk and protection is crucial – Start the day with a SPF 50 and continuously reapply the slopping during midday and evening. Slap on a brimmed hat – it does not matter that it doesn't match today's outfit, as long as you wear your supercool sunglasses and stay clear of direct sunlight.
Index 11+: Extreme high risk and protection is crucial – Stay inside or at least stay clear of direct sunlight. If you must go outside, remember to slop, slap and slide from head-to-toe.
The UV Index changes throughout the day and is usually strongest during midday. But it's important to notice, that UV rays are always present, and we highly recommend that you use P20 sun protection every day, all year.